I'm Jasmin Sehra, a designer, illustrator and creative. My style is heavily inspired by vintage graphics, specifically the different lettering and typographic styles from the 80s and 90s, bold colour, patterns and illustrations. My work is illustrative, but I love graphic and product design, working digitally, and love working with paint and other mediums like 3D rendering, gif's, engraving, creating customised illustrations and designs for different branded projects and collaborations.
I have a particular love for palm trees and Hawaiian shirts. My interest in vintage graphics started when I discovered my parents' suitcase from the late 80s which was full of vintage clothes including graphic t-shirts, and lots of fun patterned materials. It was during this time we found their old Bollywood cassette tapes as well; this is where my love for vintage type started!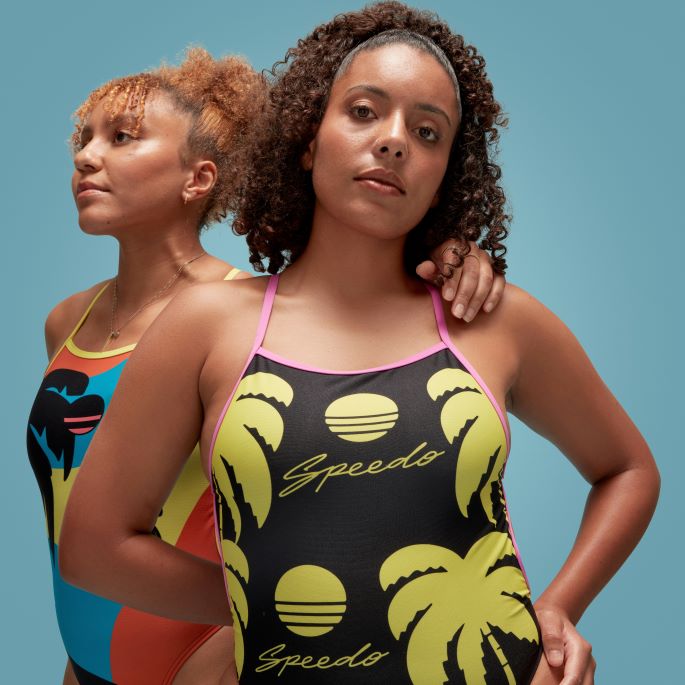 My creative vision is to create artwork that motivates, inspires and uplifts people. I want to make a positive impact in the art world, bringing people together through art whilst having fun creating it. Creativity is something that is very personal, and to be able to create something that others can connect to is super special!
"I wanted the designs to be empowering, fun, inspirational and wearable not only to the pool for competitive swimming but also on holiday to the beach".
Part of my design influences alongside 80s and 90s graphics is vintage beach and surfer wear. I love the bright neon colours and jazzy bold pattern and type you often see in those designs; these are attributes I always include in my own work (including palm trees wherever I can!). It feels like a full circle moment where I've been able to create my own collection with Speedo reminiscent of those styles but with a signature Jasmin Sehra twist!
I'm a summer baby so it goes without saying that I like swimming! I also love nature and being in nature which includes being near the sea and water. Nature is one of my biggest inspirations.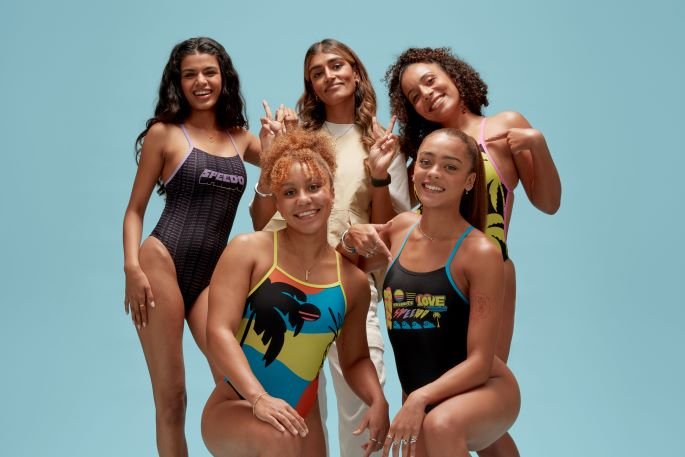 To talk a bit more about the Speedo x Jasmin Sehra collection, I wanted the designs to be empowering, fun, inspirational and wearable not only to the pool for competitive swimming but also on holiday to the beach or layered up with a cute pair of board shorts!
I love the swim cap; it really ties the whole collection together with the bright pink. I created a type-based illustration including quotes like "make waves" and "swim life", tapping into affirmations and love for the pool. I had a lot of fun during the creative process. Choosing the different colour combinations, creating digital illustrations, then seeing them in 3D and then printed was incredible.
I think the difficult part for me was narrowing down the designs as I had so many ideas, however I love the final collection, it's cohesive and I think it looks perfect. The main elements include, different hand drawn type and lettering styles, bold illustrations of the sun, palm trees, water waves, sunset inspired colours and graphics, and written affirmations. The different type styles bring a fun and edgy element to the designs, making each one unique whilst also channelling those vintage graphic vibes.
The palm trees are quite symbolic as they signify victory and beauty, I thought that was so fitting for how the pool must feel for competitive swimmers. They act as reminders to strive for victory, and the beauty of the journey. The all over print swimsuit includes – "dream big, make waves, no limits"; another empowering design serving reminders for the wearer. In one design I also paid homage to the founding year of Speedo- 1928! I love creating a story though my designs.
I hope people will feel confident, bold and empowered wearing the collection!