Cut your blow-dry time
Time too tight for your usual blow-dry? Try these two super-simple tricks to significantly cut your drying time.
1.Towel-dry your hair using a microfibre hair towel before you hit the hairdryer.
2.Dry your hair with the hairdryer nozzle attached. Told you they were simple…
Achieve instant lift
Humidity zapped the oomph from your hair? Create speedy volume and lift using just your fingers and hairspray (no blow-dry required). Spritz a little hairspray on to your fingertips and massage quickly into your roots and scalp.
Smooth 'cap hair' – in 10-seconds flat
Swimming caps can be just the ticket for protecting hair from chlorine but they can present a problem when there's not much time post-swim to get your hair back into shape.
If your hair's fresh from a swimming cap (or just looking unruly) select large sections of dry hair and run a straightening iron over them, just once, for a smooth-finished result in less than half a minute.
Look work-ready with the easy up-do
For a polished, I'm-ready-for-work (or sophisticated drinks) look, go for a sleek side-parted bun. Part your hair at the side, secure in a low bun at the nape of your neck and spritz with shine spray.
Rescue your style with dry shampoo
No time to wash your hair after a relaxing post-swim sauna? Grab some dry shampoo and spritz where necessary to soak up oil, provide root lift and add volume.
Try the cheat's blow-dry
When time is seriously tight, wet the top layers of your hair only (including your fringe and face-framing layers) and blow-dry.
Come prepared
Remembering your hair care products is half the battle when it comes to speeding up your post-swim routine. Deck out your kit bag with everything you know you'll need. Think must-haves such as hair elastic (a nightmare to forget when you swim with your hair up) miniature shampoo, conditioner, dry shampoo and straighteners.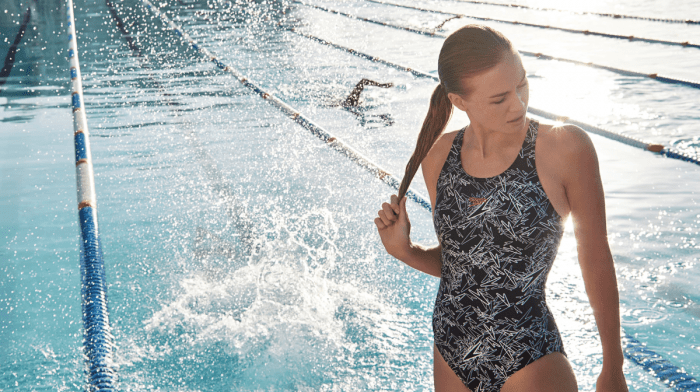 Learn how to protect your hair when swimming with these hair-protection tips.