There are many aspects to outdoor swimming which are not about the actual swimming itself, but they all come together to enhance the experience and nurture the community spirit. In this blog, the Wonderful Wild Women talk about their favourite parts of outdoor swimming that aren't the swimming.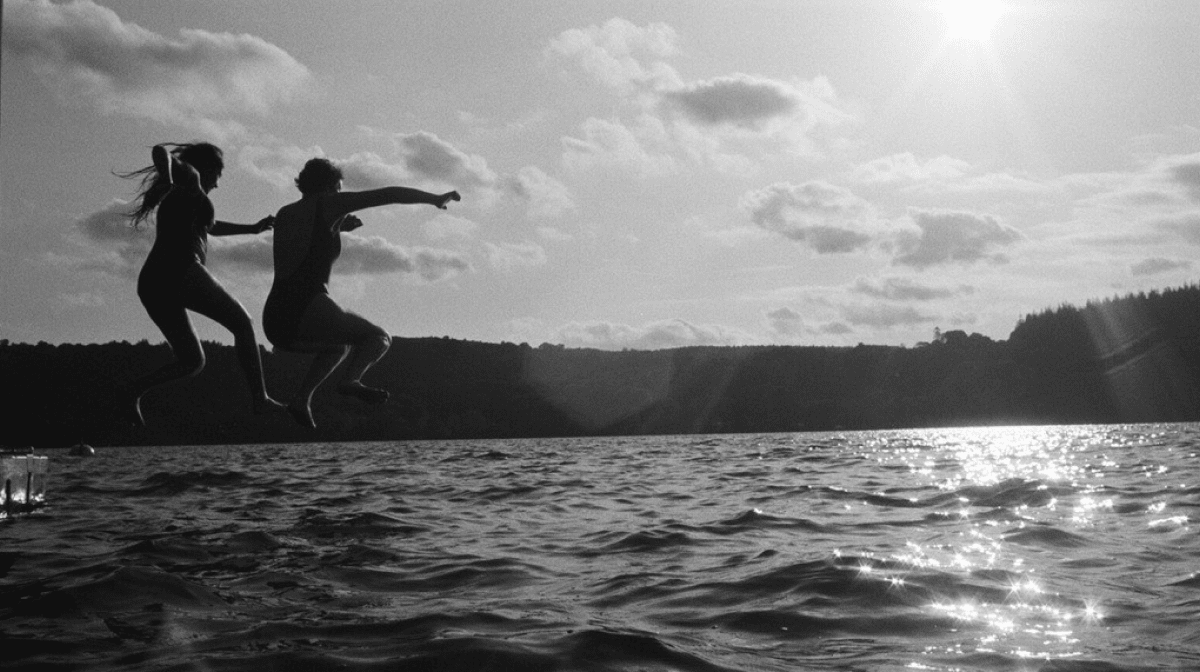 Fay's Story:
"Originally a Yorkshire girl, I relocated to the Lake District 4 years ago. A new job and a pull to live an outdoor life meant that the big move felt like one of the easiest decisions that I have ever made. I had spent a lot of time throughout my life in the Lakes, it was a home away from home which gave me a feeling like no other. It is interesting how your life can change so quickly, how a life that you didn't know that you were about to have would be one that you would fall so deeply in love with.
"Outdoor swimming has contributed to this largely. I have always loved water, be that being in it, on it, beside it or listening to it. A combination of moving to an area alone and having a draw to the water meant that I needed some friends. Not any old friends but some friends that also fancied getting into the outdoor pool on my doorstep – Lake Windermere. I must have been in luck because that's when I stumbled across 'Buoy 13 Swimming Club'. The rest is history.
"In those initial years of swimming with the club there were only ever about 6 of us that would meet for a pre work swim a few times a week, only ever noticing the odd dog walker passing by and giving us a few funny looks! Fast forward a couple of years and outdoor swimming has grown so much and the odd looks have reduced drastically. It is very rare to get down to the water's edge on a morning and not spot another selkie getting ready to take the plunge. I owe a lot to the group for it is them who were at the beginning of my outdoor swimming love story. Whilst I embraced outdoor swimming, the group embraced me, and I have made some life-long friends. We all share the same love for outdoor swimming and although this is the reason why we all meet, at the heart of this is also the social aspect of going swimming. It is great to get down to the lake on a morning, rain or shine and to be greeted with big smiles, friendship and lots of chit chat. Not forgetting the post swim coffee (sometimes cake if you are lucky!) and having a laugh with your friends whilst warming up, all before your working day has even begun.
"There is nothing like standing by the edge of the mere with a group of people of all ages, sexes, shapes, background and abilities, the lakeside camaraderie is always present. It is uplifting to be a part of such an exciting, vibrant, and welcoming activity. It has a special way of connecting and bonding you to others. Unlike many other swimming groups, predominately indoor swimming, outdoor swimming has a strong focus on wellbeing rather than swimming technique and speed.  The social aspect of outdoor swimming, couple with being outdoors and exercise is self-care perfection!"
Fay's experience is extremely relatable to many an outdoor swimmer's story and encompasses so many of the things that draw us to the water's edge. We've highlighted our standout things below, with quotes from some of the Wonderful Wild Women team;
The People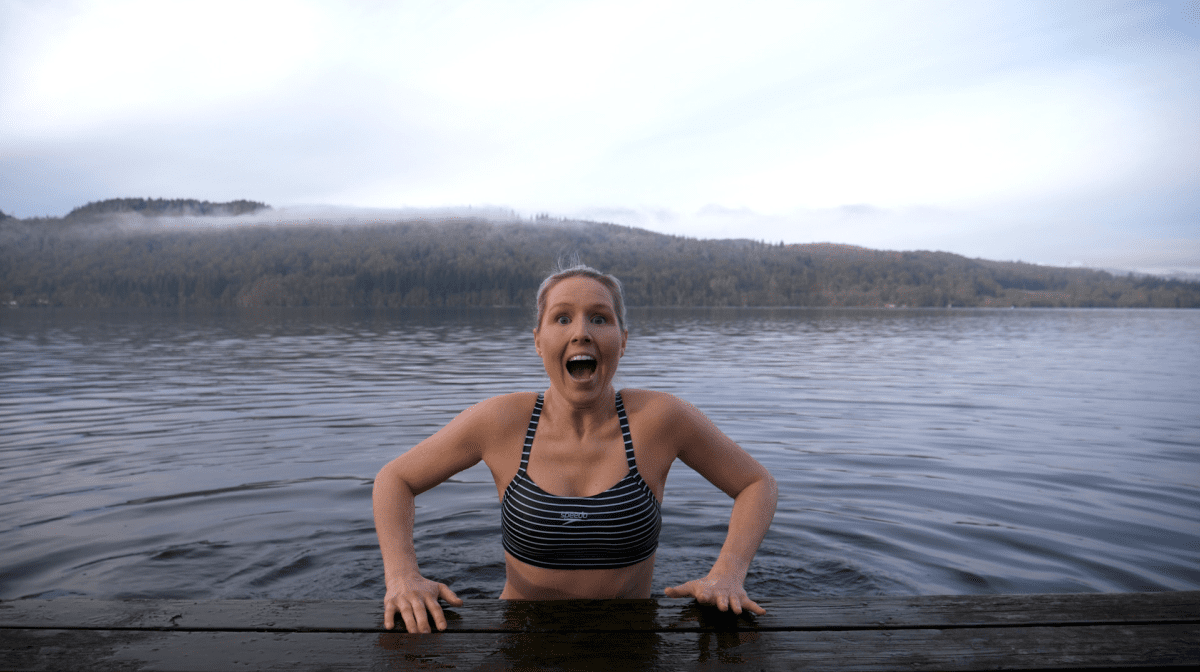 The outdoor swimming community is such a friendly and welcoming world. There are many accounts of people visiting other areas, connecting with a local swimming community, and being welcomed along to their weekly meet.
Differences are left behind and the focus is purely on where you are. People of all shapes, sizes, experiences, and backgrounds come together to share the same love and joy of the water.
Faye explains; "Through open water swimming I have met so many new people and built friendships from this. When at the lakeside there is no judgement, just like-minded people wanting to enjoy being in nature and encouraging each other along the way. I remember the first time I went down to the lake for a group swim and feeling so welcomed into the little community that was being built. It eased my nerves about getting in the cold water and has encouraged me to continue with open water swimming and take me to some beautiful places."
There's also the added bond created when doing something with someone which others might consider a bit unconventional.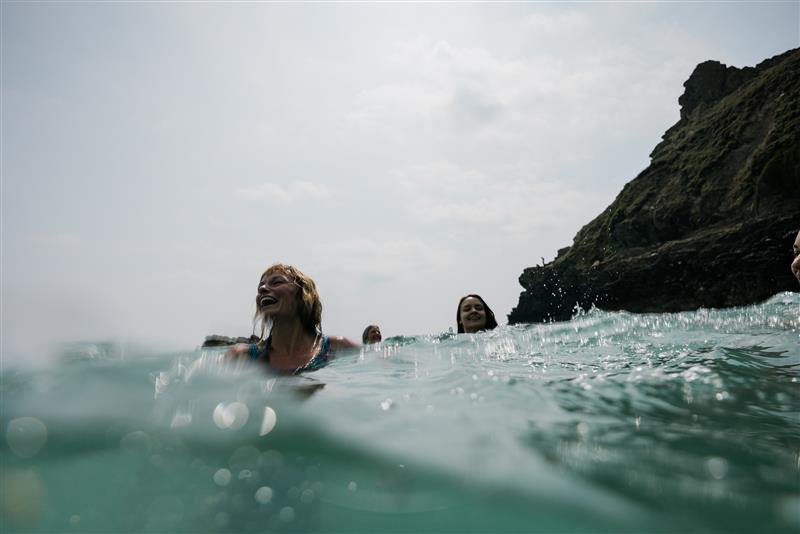 "Every swim, dip and splash makes us feel happier and healthier. So how about we give something back in return?"
Hayley writes, "Community really is powerful. Swim friendships can take time as teeth chatter it can be hard to get words out. Yet suddenly a year goes by and those morning dips where you wash away any blues provide such a stable foundation for friendships that mean more than words – so it turns out not being able to speak because you are so cold is worth it. In writing this, I wonder if that's why we laugh so much as it is the only way our bodies can express the joy we're feeling post swim."
The Cake
Now any excuse to eat cake! You'll hear many a swimmer trying to justify it with a "well all that brown fat we are building… burning those calories, we need to replenish them! Etc", which is all very true, but it's also been said that sharing food (not just cake) with people can help to strengthen relationships and build trust, it creates a feedback loop of positive emotions. It's also a great conversation piece with recipes being shared and if you are lucky there will be more than one cake type to sample!
For the health conscious amongst us and those who love a challenge it provides a great opportunity to experiment with those healthier options that you have been meaning to try, with a very willing bunch of taste testers!
The Mood Boost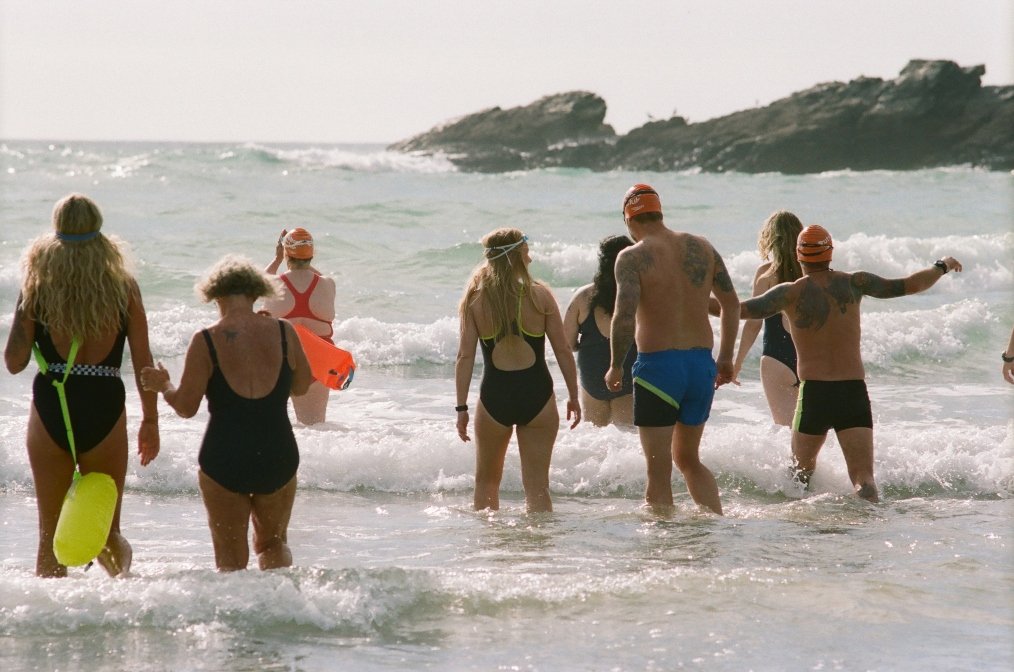 As Hayley explains, "Group swimming is about sun rise giggles, huddling for warmth and celebrating the post swim glow. Sharing the experience doubles it and affirms that you are not alone. That connection of finding your tribe gives you the strength to do anything you want with the rest of your day. Pre to post swim is a totally different atmosphere. Pre swim there is a lot of staring at the view or the water or the birds and procrastinating. Post swim there is jumping and shaking, and chatter and it feels like a small daily celebration of everything that is good.
"There has been some extensive research done into the benefits of cold-water swimming and the natural effect it has on your body to trigger the fight or flight response, which when challenged consistently through cold water immersion can help you to deal with stress better. There is however an instant elevation in your mood and energy too. From our experience you just don't get that with any other activity!"
The Connection To Nature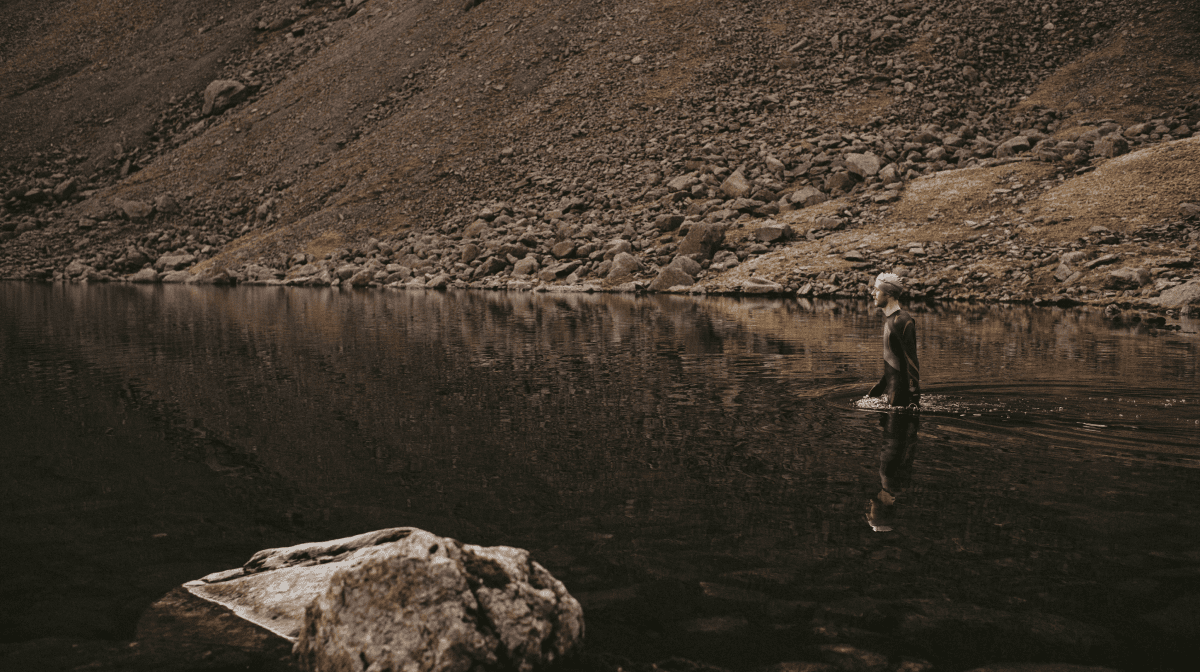 Swimming & dipping in a body of water all year round really grounds you with a connection to the location but also the natural world you are immersed in. You see and feel the shift through the seasons and really tune in to how the landscape around you develops and changes with that.
We think Jenny wraps it all up quite nicely; "This winter has been my first full winter, swimming in cold water. The journey has been magical with my 1-1 lockdown swimming buddy. The friendship, the honesty, the connection to nature. The personal challenge of the plunge. When I emerge from the water, I feel like I can conquer anything."
Reach out to a local swimming group and see where the journey takes you!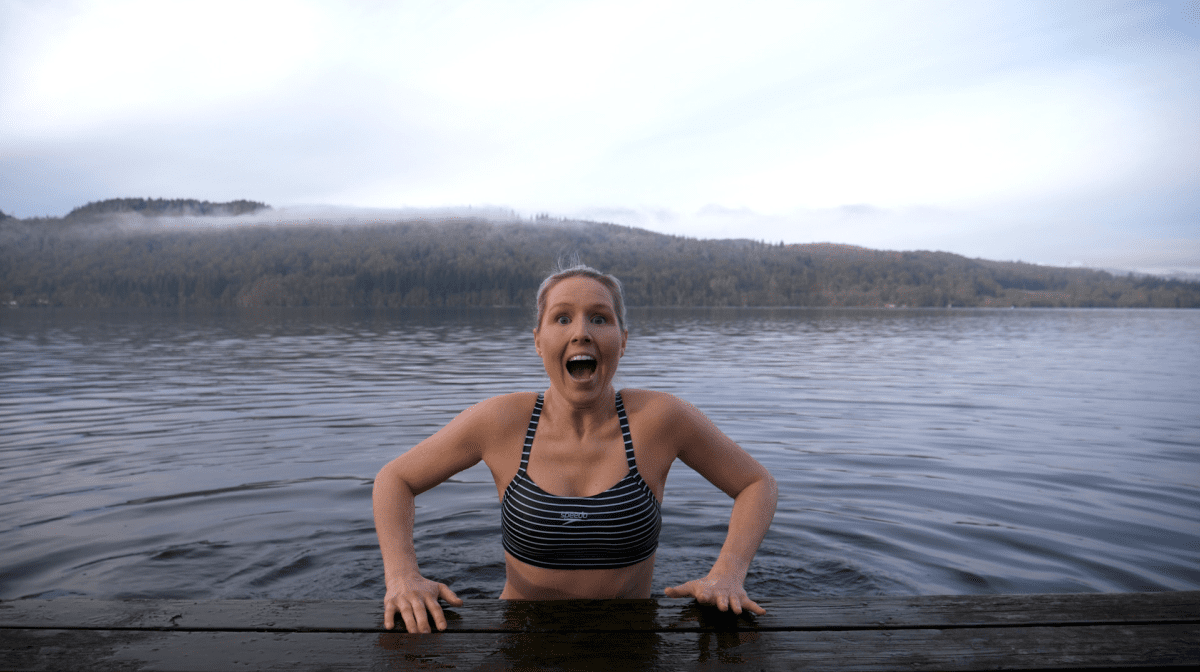 Get wise on how to swim safe and make your open water swimming experience a safer one, with these open water safety tips.