Straw-like texture, colour fade, dryness. Without protection, swimming can take its toll on your hair (cheers, chlorine). So whether you're a fitness swimmer or swim for fun, without a cap, it pays to give your hair a little TLC. Heed our advice to swim-proof your hair.
Chemical hair treatments + chlorine = trouble
After a colour treatment, tint, perm or highlights, your hair is at its most vulnerable. Try to avoid swimming for at least a week after chemical treatments in order for them to settle and prevent any chemical reactions or mishaps, like hair turning green, premature colour fade, dehydration or breakage. Ditto freshly applied hair extensions – leave them a few days to give the bonds and hair a chance to settle. Then, when you do hit the pool, soak the hair with tap water before you swim, apply a conditioning mask to the very ends, comb through and braid to protect from damage and tangles.
Protect like a pro
They may wear a protective swim cap most of the time, but that doesn't stop professional athletes taking the time to look after their hair, even when off-duty. Want to leave the pool looking like an Olympic athlete? Follow these haircare tips:
Always soak your hair with fresh tap water before entering the pool to prevent it filling up with chlorinated water.
Once your hair's wet, apply some Moroccan oil, argan, coconut or olive oil to the palms of your hands and run through your hair. This will act as a treatment, while making the hair slightly waterproof, therefore preventing the harsh chlorinated water from causing damage while you swim.
Swimming outdoors? Use a UVA sun protection spray to protect your hair, prevent your locks from drying out and keep your colour from fading.
Always give your hair two really good shampoos. For colour-treated hair, use a colour-saving shampoo. For dry, damaged or brittle hair, try using a super-hydrating or anti-chlorine shampoo shortly after swimming and remember to rinse for some time to ensure you flush out any unwanted chlorine deposits.
Always finish with a deep conditioning hair mask and leave on for at least 10 -15 minutes. If you're in a rush, use a hydrating conditioner and leave on for 2 -3 minutes. (Go for the best choice of products to suit your hair type)
Haircare kit bag essentials
Swim session over? Now's the time to lavish your hair with a little TLC, using products designed to repair and restore. Consider these haircare buys for your swimming bag:
Deep conditioning mask
Leave-in conditioners
Moroccan hair oil
Heat styling lotion (to protect against heat styling products)
UVA protective sprays (when swimming outdoors)
Colour care and colour-refreshing shampoos and conditioners
Hydrating, deep-conditioning shampoos and conditioners
Hair serums
Wide-tooth comb or Tangle Teezer brush (Tip: Always start by combing the ends of your hair, then work higher and downwards once each section is tangle-free. This will help prevent damage and split ends)!
Hair sorted? Now hit the pool!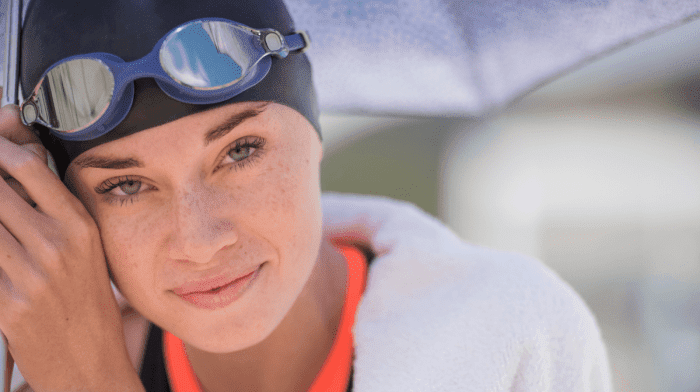 Give rough bits a moisture makeover with our guide to skin care for swimmers.