Vicki McCreadie is a Lake District based Outdoor Education Instructor mostly found swimming or mountain biking in her spare time. She is passionate about helping others to access the outdoor spaces that we all love and cherish. Here Vicki shares with us her and her mum Liz's outdoor swimming experiences.
From as young as I can remember, I have been able to swim and unbeknown to me until last week, my Poppa was my mum's swim coach. I was a keen swimmer growing up. At weekends mum would drive me to competitions and sit in the viewing platform. Somehow other hobbies and study took priority, so I began to enjoy swimming when on holiday or in a hotel pool, it became more of a splash around and relaxing connection to the sport.
Having the ability to swim is a true privilege and has helped me immensely with my career as an outdoor education instructor.Being confident in water gave me the confidence to pursue qualifications in many other water sports. My career brought me to the Lake District and a few years after my move, my parents relocated here too.
About 5 years ago, I swam through winter for the first time. Coincidently winters seemed to bring challenging times and this became extremely important in coping with these periods of time effectively. Proven to build your reaction to stress, building your resilience and having so many other benefits, swimming has it all and I was hooked.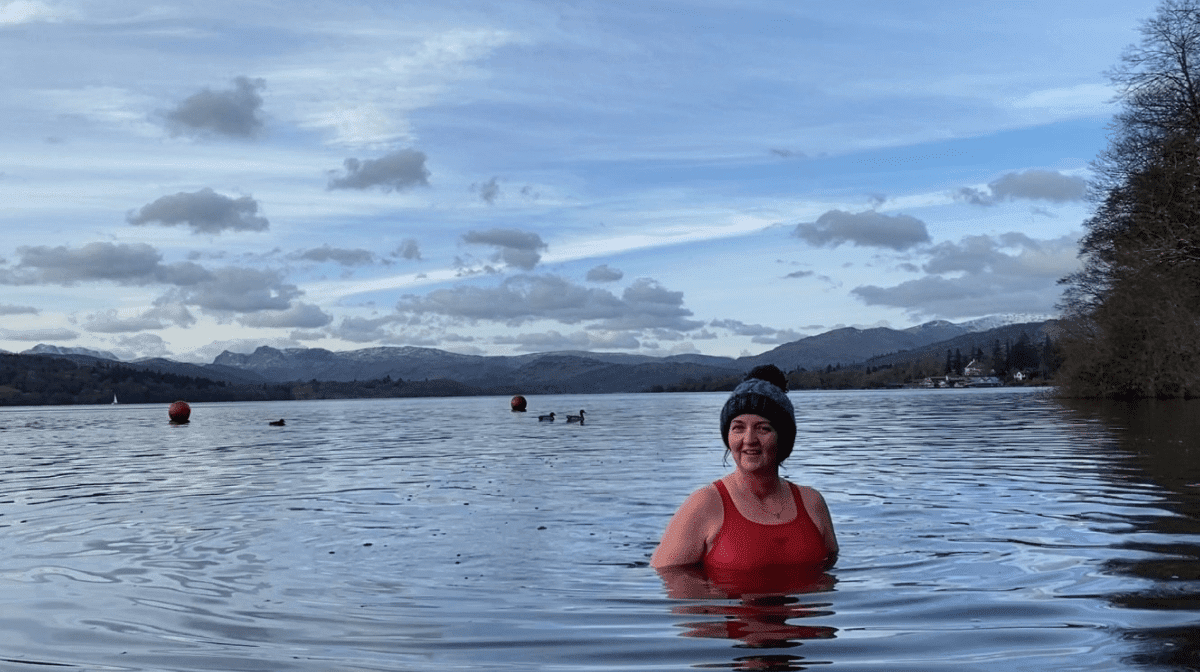 Our first  family Christmas together in 2018 in the Lake District and a Christmas Eve swim was arranged with friends. This seemed slightly strange at the time; however I knew I would attend.  Christmas for us is normally spent together with family so I wondered if mum would be intrigued enough to join me. I will always remember that first Christmas Eve swim together under an incredible cloud inversion.  Mum swam skins, with careful preparation, with me watching over her, shouting "don't go out that far! Just stay in between these two jetty's".
Our roles were completely reversed. It was my turn to keep her safe and introduce her to a new twist on an activity she knew so well.
Sharing an experience with others and introducing new people to it is one of the most rewarding parts for me. To be able to share it with my own mum is extra special, knowing she would reap so many of the incredible benefits that come with cold water swimming. Benefits such as the boost to the immune system and circulation, stress reduction and the natural high to name just a few. All a total bonus on top of spending some quality time with my mum.
Christmas Eve swims became tradition. More challenging times came for us and swimming was something we could quickly fit in to busy schedules and inevitably ended up being our quality time. I had read and heard of others describing winter swimming's ability to reset them and send them off in a more positive mind frame. Amongst some personal challenges, I experienced this myself and several times I physically felt my body pop with relief and release. A switch flicked and the stress was relieved, cold water swimming had deeply stamped its mark on my routine and was beginning to do the same for my mum.
In January 2020 we lost Nana to Alzheimer's. She really was someone who inspired our lives and instilled in us the importance of adventure. Nana was  a Cub Scout leader and told us so many tales of camps and mountain walks.
I missed the opportunity to have my final goodbye  before Nana passed away and swimming once again relieved the strain. Without planning or acknowledgement mum swam more frequently during this hard time too.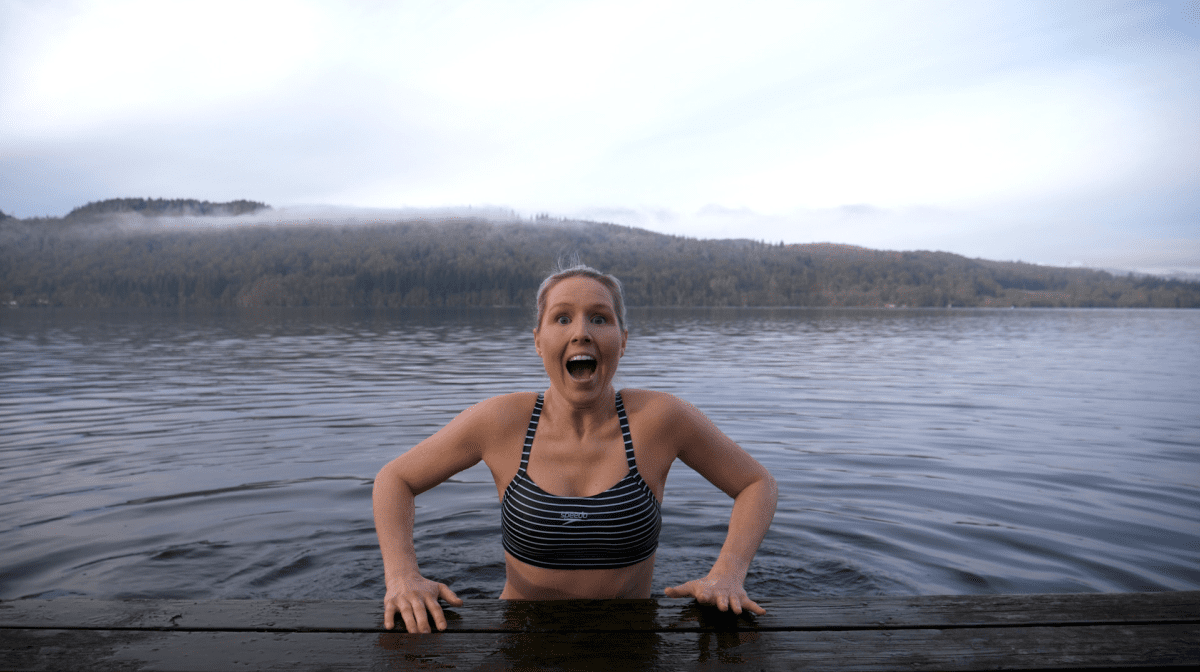 With Alzheimer's fairly prominent in our lives I saw an advertisement for The Great North Swim. I told mum I wanted to do it and asked if she fancied giving it a go too? Once again my mum didn't hesitate, before we knew it she was signed up and a wetsuit had been bought. Unfortunately 2020 didn't go the way we had planned and The Great North Swim was postponed. There wasn't much time to dwell and we transferred our entries to 2021.
I lived next to a river during lockdown and was so grateful to be able to walk down to dip. My Mum wasn't so lucky and her closest river didn't fit the bill. With pools shut her swimming ceased. When restrictions relaxed over the summer we met up and completed a relaxed 1km with lots of chatting. Secretly I cried on the shoreline, seeing mum so happy after 4 months of being disconnected and not seeing family and friends. The relief that we were out here again and back on track was overwhelming for me.
Towards the end of 2020 I was able to get back into the pool with my local triathlon club and we were able to complete our traditional Christmas Eve swim, this time with a bit of a red twist, thanks to Speedo. Mum swam early morning with me watching over her, whilst I waited to be joined by the Wonderful Wild Women and capture our community at its best, outside on a lake shore. All inhibitions left at the car door, ready to ignore all our hang ups and strut along a jetty with Santa hats and red costumes. Our main hope to inspire others to embrace their individual body and be proud of what they can achieve, especially during this testing year.
Enter January 2021 and we are greeted with the news of another national lockdown. Something in my mind told me that I needed to focus, give myself something to achieve each day. I had mastered sour dough (maybe), puzzles only take a day now and walking the dogs around the local hills is the new normal.
For years I have watched and supported friends who have taken on the challenge to swim everyday in January. I have been inspired and in awe of their determination but never underrated the challenge. It's a big commitment, I didn't know if I could?
Next thing I know it's January the 1st and I'm at the river, claiming that this might be the start of a month of swims. It was!
To be safe whilst swimming outside in winter its always best to be accompanied by another person, the support is invaluable. I hadn't discussed the challenge with my mum and she actually found out when I shared it online.  She watched on for the first week, sending messages of support. When the snow started to fall the offers of safety team positions came flooding in. (EXCUSE THE PUN) I could sense my mum's starting interest and she kept saying," I will come with you one day, one day next week probably".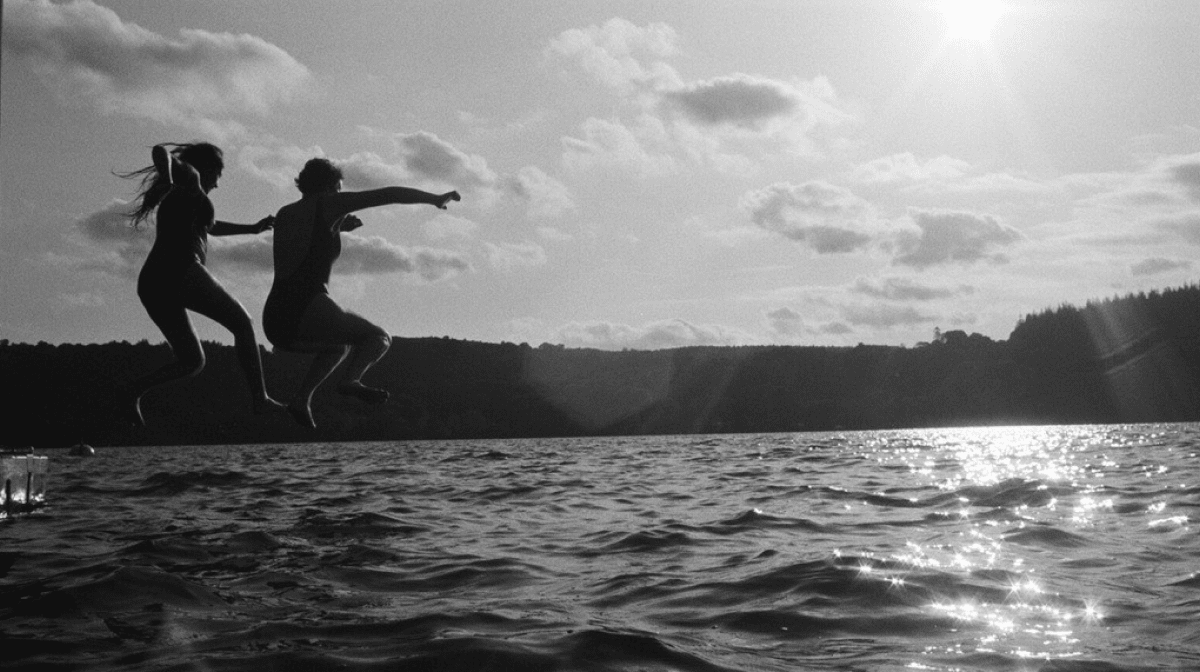 Next week came and she was true to her word and joined me at my local river for a dip. Once a week from then on my mum joined me; a focus for her as much as me now. On the anniversary of my Nana passing we swam together. I couldn't hold my mum's hand, hug her or go round for tea but I could swim with her in Windermere while we asked each other, "what would Nana think of us right now?" . You hear people say that "they were watching us that day" this swim really felt that way, calm with the sun shining down.
Swimming through January was truly incredible and exhausting. The coldest January we have had for a long time. The ice and snow made some days exciting with rain & windy weather being a true test of my commitment. Having mum there once a week meant we had a shared new experience, we had been able to support each other in one of the most magical environments. We had allowed ourselves the time to process grief, turning it into something positive. I have always known waters magic, but this year it has offered another avenue of enjoyment and it has held my mum and I tight.
Before we knew it January was done and we had made it through raising almost £2000 for our Nana!
With our places booked for the 2021 Great North Swim, we look back at our initial disappointment with retrospect; this journey has now become one with so many more incredible memories and will make the final and original focus even more special. We are patiently waiting for the pools to reopen so that we can get into some warmer waters. It will be very exciting to be able to take my nieces to the pool again and spend some time bonding with them after a year apart. I hope that this will be the case for many others who haven't had chance to enjoy time with their families poolside. Watch this space for our June swim. We know that Nana and Poppa are watching.