I'm Tegan (like Megan, with a T), a freelance illustrator and designer based in Kingston, just outside London. I'm inspired by all things colourful and playful, which you'll probably find very easy to notice when looking at my work. Within each piece I create, you'll likely find a mixture of bold lines, bright colours, positive quotes and patterns… there are usually some plant or cloud illustrations somewhere in there, too.
As with many children, my first swimsuit was Speedo, which would be well over 20 years ago now! I still remember as early as kindergarten, I would spend my Wednesdays after school swimming with either my mum or grandparents. Even now, there's nothing as freeing or refreshing as getting yourself in the water and getting the lengths in.
Because of this, when this project came up, I was so excited and pretty mind-blown to think that I'd soon have my very own swimwear line with the most iconic name in the industry. It was unlike any collaboration or project I had done previously and to be doing it alongside Speedo was a privilege to have the chance to do.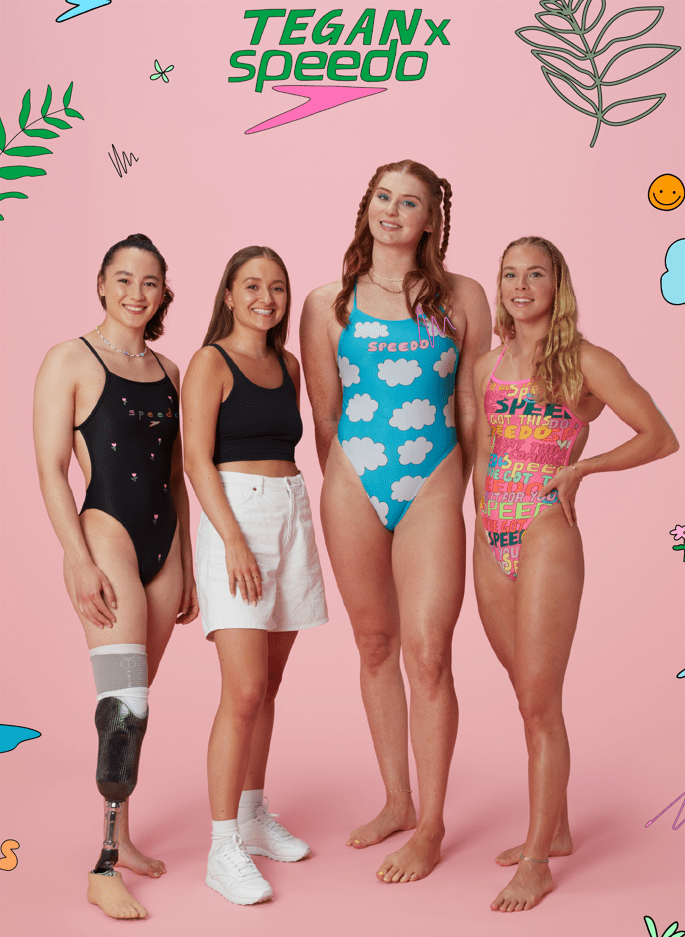 These swimsuits are also the first ever wearable garments that I have designed, so for inspiration for the project, I wanted to encapsulate four different creative moods within the designs, while integrating both typography and illustration. The four routes were: simple & chic, abstract, playful and typographic.
For the simple & chic, I went for a sophisticated black suit with a simple floral pattern and multicoloured "Speedo" typography as the main focal point, partnered with a hot pink lining. This is the most stripped back design of the four, for a more classic look.
Next up, I wanted to create a more abstract piece that featured more of my usual design elements. This one features my classic plants, smiley faces, clouds, flowers and typography, with the addition of abstract blue "pools" of water. The mismatched coloured straps were the perfect way to round off the alternative aesthetic.
The playful swimsuit had to be a full-cloud design, matched with bubbly pink typography, spelling out Speedo, in the centre of the suit. This particular design also comes with a matching Tegan x Speedo cloudy swim cap, which makes this swimsuit even more special and eye-catching when paired together.
Finally, the typographic piece. I am a maximal artist at heart, so this one was a lot of fun to pull together. I started by illustrating the different phrases: "Great Things Are Coming" and "Do It For You", quotes that I resonated with years ago and that have since been turned into digital works, paintings and, simply, used as personal mantras.
These were followed by the branding in multiple different hand-drawn fonts. Combine all of the above in a collision of differing typefaces and colours and there we had the fourth suit design.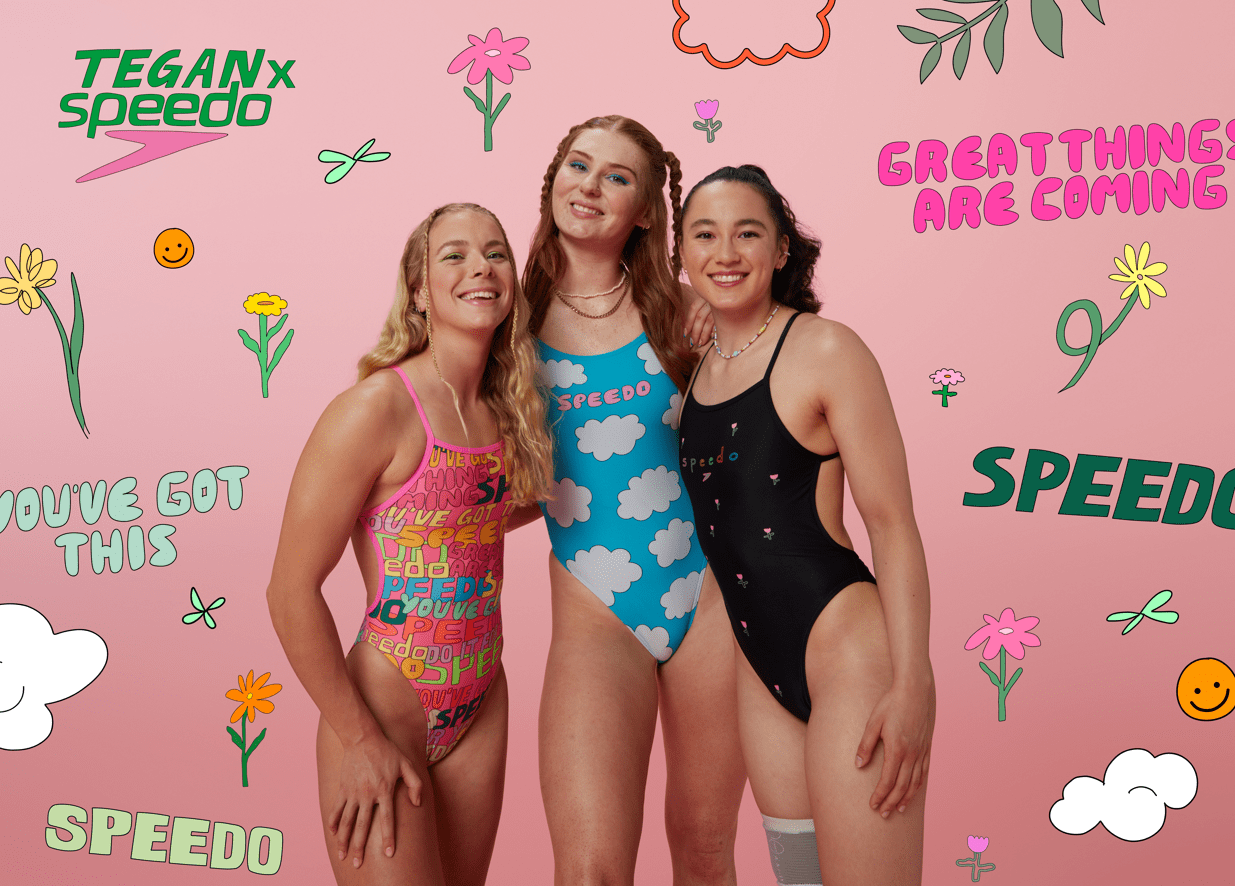 To collaborate with Speedo is something that's very surreal for me and something that still hasn't quite sunk in. When I started this project, I told the design team that my grandparents used to love swimming and going to the beach with us when we were young, and my Granda was never without his Speedo trunks. He was a Speedo guy until the end, and because of this, I actually tie the brand very closely with fond memories of loved ones, too.
It's crazy to think that people will be wearing the Tegan x Speedo collection over the coming months. I can't wait for those people, myself included, to enjoy feeling confident, fun and playful in their colourful swimsuits poolside and beachside, SS23 and beyond.