Discover why you should be taking your swim session outdoors this summer, as we chat to blogger and open water swim enthusiast, Emily Ackner.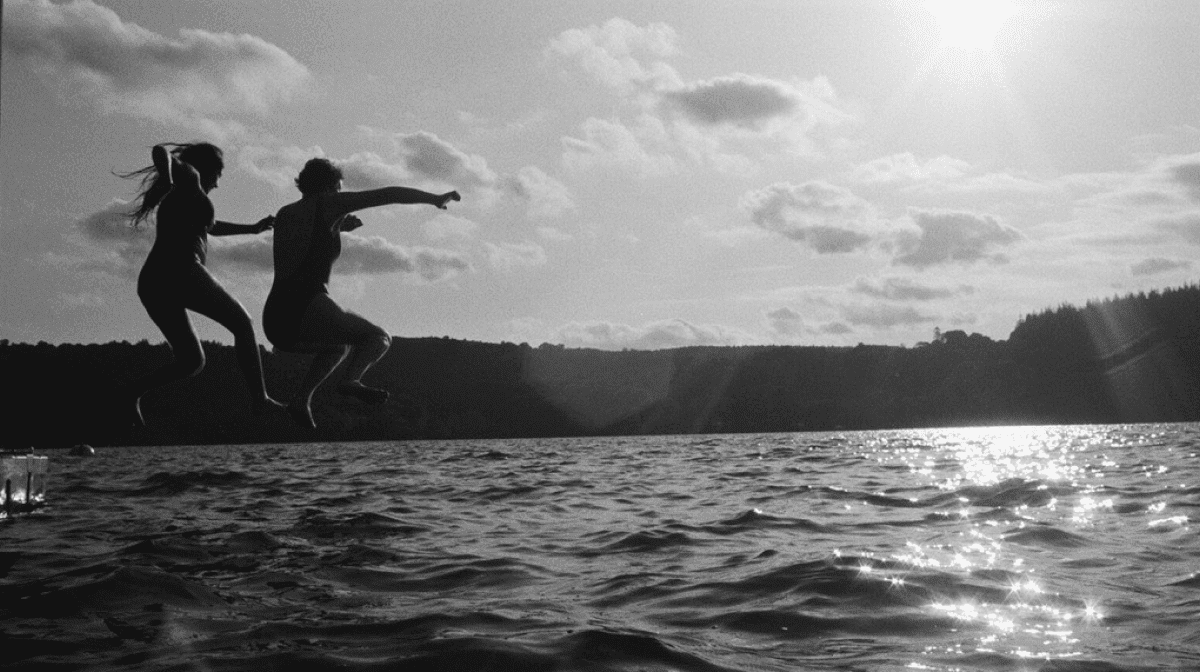 That glorious holiday feeling of the sun on your skin as you swim in warm, open waters is hard to beat. But who says you have to leave the country to enjoy it? Swim-loving blogger, Emily Ackner, reveals the feel-good effects of enjoying outdoor, open water swimming closer to home, and explains why, for her, swimming is always a 'positive punctuation' in her day.
How did you get into outdoor swimming?
Growing up in Cornwall, jumping in the sea was second nature. But learning to swim well and for longer distances is relatively new, happening only in the last few years. My first open water swim happened by a chance conversation with a friend of a friend. Next thing, I'd accepted a place for a one-mile swim event across the Falmouth – St Mawes estuary. Things have been progressing quite nicely ever since!
The nature connection is a big one for me. Living in London there aren't always frequent opportunities to be immersed in it. I've incorporated a swim at the Kenwood Ladies' Ponds on Hampstead Heath into my weekly routine to ensure I get my outdoor fix, in case a river or ocean swim isn't on the horizon. I'm quite happy paddling with the ducks.
How does outdoor swimming, and swimming in general, make you feel?
Swimming feels very natural to me and the water is where I'm happiest. I feel unbalanced without it. Although I'm quite sure it's different for everyone, it's certainly my energy source. There are occasions when I use swimming for solitude and other times when it's a more social affair. Both are wonderful reasons to celebrate the simple pleasure of swimming. The personal wellbeing benefits are huge and the water has a great power to simultaneously calm and rejuvenate
What is your mind-set like when you're swimming?
It varies depending on my mood. If my mind is running wild, I'll resign to it and try instead listening to the sound of the moving water and tiny windows of surface noise. If I'm calm, I'll float between memories and dreams of future plans. My swim is always a positive punctuation in my day and, irrespective of other stresses and strains, if I get a swim in, my waking hours have been a success. I aim to feel balanced by the end of my swim and to enjoy a feeling of serenity.
What makes open water swimming at sunset special for you?
It's the light. If I'm lucky enough to be wild swimming, even more so. Every sunset swim is unique; moments where I understand my place. There is often a beautiful stillness before sunset as the wind drops and the water turns glass-like.
Why would you encourage other busy women to make time for swimming?
If you enjoy morning exercise, find a pool on your route to work and incorporate it into your morning routine. You'll really not have to sacrifice your sleep and I'll guarantee you'll need less caffeine to stay buzzed up until lunch! On the flip side, think of it as a great way to relax. A late afternoon or evening swim in place of a few glasses of wine will set you up for a lovely night's sleep and a fresh next-day start.
Do you see swimming as a way of life?
I couldn't imagine my life without swimming, no way. I'm so happy that I've made it intrinsically part of my lifestyle. It bridges the gap between a relaxed life by the sea and a busy life in the city. It's my tonic to feeling landlocked!
Why do you choose a Speedo Sculpture swimsuit for your swims?
My Sculpture swimsuit feels very special, and I've had a fair few in my time! There's no compromise between practicality and luxe. Like many women, I experience fluctuating levels of body confidence, but I've noticed that my waterside strut is strong when wearing this suit!