Have you ever wondered how Elite Athletes fuel themselves for training and race day? We spoke to Jamal Hill, about what he eats and how he keeps himself energised.
Jamal Hill is a 5 x National Champion and 3 x Para Pan American games medallist. Jamal is determined to make the world a better place through his foundation, Swim Up Hill.
Training Meal Plan
When he's training, Jamal's meals revolve around the various workouts he does throughout the day.
"The first thing I do when I wake up is drink water. I try to drink half a gallon to a gallon throughout the day. Before my first dry-land workout I have a power smoothie. Then, before my pool session I'll have a breakfast sandwich or something from Chipotle, and during my pool session I have some health amino acids. For post-pool recovery I usually have a quesadilla or a rice-based dish, and this fuels me going into my second dry-land workout of the day. Finally for dinner, I have something like chicken, sweet potatoes, broccoli and cornbread.
Racing Meal Plan
Jamal says that his diet doesn't change too much between training and racing, the only real difference is the meat he chooses to have.
"For lunch and dinner during competition, I primarily eat red meat because it sustains my energy through the stress and exertion of racing. Outside of competition I usually only eat white meat."
The night before a race, Jamal usually eats steak, sweet potatoes and some vegetable or salad. Jamal says this fuels him well and keeps his energy up throughout long competition days. On the morning of a race, Jamal eats a breakfast sandwich with eggs and sausage within 2 hours of stepping behind the blocks.
"My nutritional practices have come from experience and most of that has come from trial and error with bad decisions."
If you haven't quite got your race day nutrition nailed yet, don't worry. Like Jamal it might take a little trial and error to get it right for you.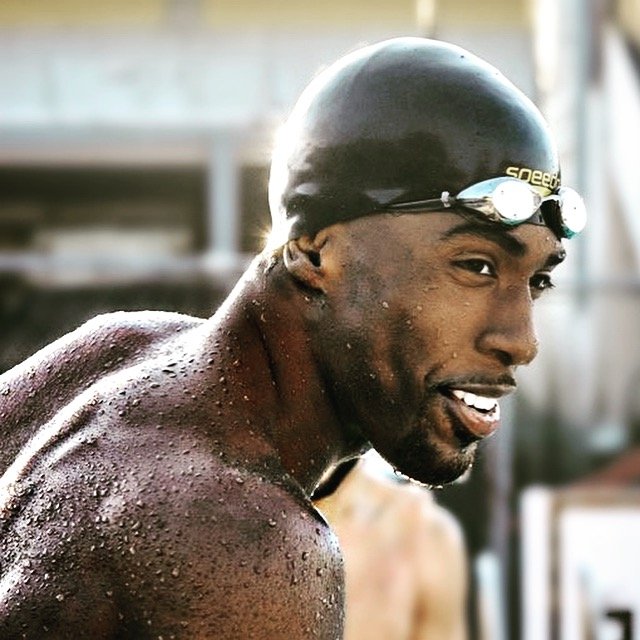 Favourite Foods
Although athletes like Jamal often stick to meal plans during intense training blocks and on race day, everyone has their guilty pleasures. We found out all about Jamal's…
Favourite meals – Caribbean oxtails with rice and peas, or mac n cheese.
Favourite snack – a smoothie with amino acids, banana, oats, almond milk and peanut butter.
Guilty pleasure – Frosted Flakes
Go-to pizza topping – lots of meat and pineapple!
You can find out more about Jamal here.