If you're wondering if swimming is good for toning then wonder no more; depending on which areas of your body you're looking to tone, swimming can be an ideal way to get the results you desire. Improve your body bugbears and reclaim your confidence with these exercise, beauty and style tips.
Body hang-up – Arms
Too self-conscious for short-sleeve tops or dresses? Target chicken-skin bumps (a condition known as keratosis pilaris) and wobbly arms and with regular exfoliation and weight-bearing exercise.
Swim tip: Incorporating hand paddles into your usual swimming session will add resistance, firing up the strength and tone in your arm and shoulders.
Beauty tip: Up the ante with a skin-sloughing body moisturiser containing AHAs (gentle chemical exfoliants) which will help smooth your arms and reduce chicken-skin bumps.
Swimsuit: Speedo Sculpture swimsuits include detailing at the bust or waist, drawing the eye to the centre of your body, away from your arms.
Body hang-up – Bust
Saggy, sun-damaged bust? Sun exposure, gravity and breastfeeding can all take their toll. Give your décolleté the TLC it needs with nourishing bodycare products and help prevent sagging skin by using a high SPF in the sun.
Swim tip: Target the pectoral muscles in your chest by performing breaststroke swimming drills. For maximum impact use a pullbuoy to really work your upper body.
Beauty tip: Include your chest in your anti-ageing routine – think cleanser, day and night cream – or choose bust-specific bodycare products. Avoid using body scrubs, which can be harsh on delicate chest skin. Instead, gently buff your décolleté using a muslin cloth.
Swimsuit: Small chest? A bandeau style top will enhance and flatter your body shape. Large bust? Opt for a halterneck style – they'll flatter your curves while providing the support you need.
Body hang-up – Tummy
From love handles and stretchmarks to tummy bloating, the stomach area is a common source of body confidence angst. Core strengthening exercises will help you achieve firmer abs, but you'll need to combine with cardio to trim down your tummy. Using regular swimming to lose weight as part of your overall exercise regime can be particularly effective.
Swim tip: Strengthen your abdominal muscles every time you swim by improving your body positioning. Aim to achieve a long, flat line from your head to your toes. You'll need to engage your core to perform and maintain this position, which will also help you swim more efficiently.
Beauty tip: For a soft, supple stomach, slather on a body oil designed to improve skin elasticity.
Sculpture swimsuit: Look for detailing at the waist or bust – it draws attention to the narrowest part of the body, making your waist appear smaller.
Body hang-up – Legs
Dreaming of perfect pins? A dedicated bodycare routine featuring a mix of dry skin body brushing, daily moisturising and heart-rate boosting exercise will help improve the tone of your skin and the overall look of your legs.
Swim tip: Swimming can be great for toning specific areas of the body; aqua spinning classes will help tone up and tighten your leg muscles while torching calories – just be prepared to work hard!
Beauty tip: For the illusion of leaner-looking legs in an instant, try this classic beauty tip: run a shimmery or sheen-giving moisturiser down your shin bone to lengthen and elongate. Discoloured knees? Rubbing them with half a lemon helps to alleviate dryness and dark patches.
Swimsuit: Higher cut swimsuits with darker lower halves give the illusion of a longer, leaner leg, while plunging necklines and colour or detailing on the upper body draw the eye upwards.
Body hang-up – Bum
Big, small, round, flat, droopy – bums come in all shapes and sizes, but we all want ours to be perky. Resistance exercises, such as lunges and squats, can help lift and shape your glutes, while high intensity cardio will help reduce fat stores.
Swim tips: Activate your glutes by performing walking lunges and static squat jumps in the shallow end of the pool. To perform the squat jumps, stand with feet shoulder-width apart, lower into a wide squat then power up through your legs and glutes to jump as high out of the water as possible, hands above your head. Repeat 20 times.
Beauty tip: For the smoothest bottom going, use a dry body brush and massage your bum using small circular motions. Follow with a body moisturiser or lotion.
Sculpture swimsuit: A halterneck style swimsuit can help balance a larger lower half, while shaped panelling helps to visually slim the hips by bringing the eye to the centre of the body.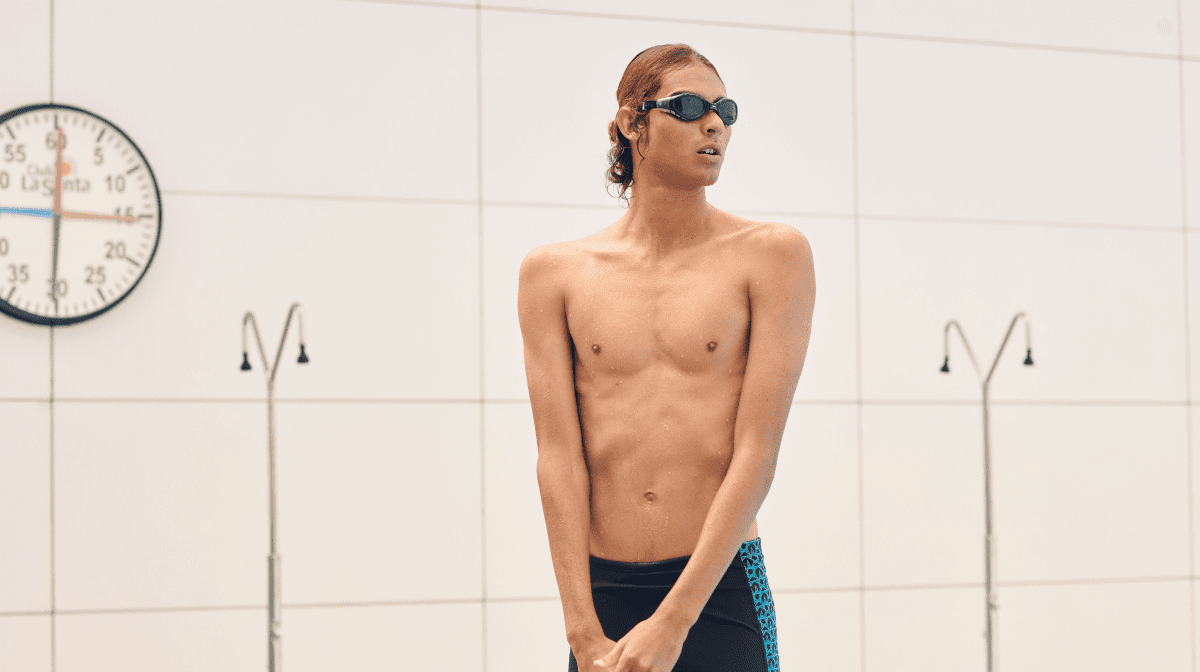 Need inspiration? Incorporate a mixture of the following ideas to help turn your body into a fat burning furnace.