At Speedo, innovation is the beating heart of what we do, especially when it comes to competitive swimming
From Clare Dennis' exposed shoulders in 1932 to our pioneering LZR Racer technology, being at the forefront of swimwear technology has always been embedded in Speedo's DNA.
Over the years we've worked closely with world class athletes who have fed into our research and development process, helping us to create a full range of swimwear and accessories that we can truly say have been developed by champions.
Ultimately, the athletes we work with are looking for the same thing. They want to be comfortable. They want to be stronger. Above all, they want to be faster. Inevitably, though, they all have different thoughts as to how to achieve this, and the challenge of developing products that deliver for ALL swimmers is one that we thrive upon.
After more than 90 years, you might be forgiven for thinking we've seen it all. But, every now and then, our research and development experts are presented with a challenge that's unique from anything we've ever worked on before.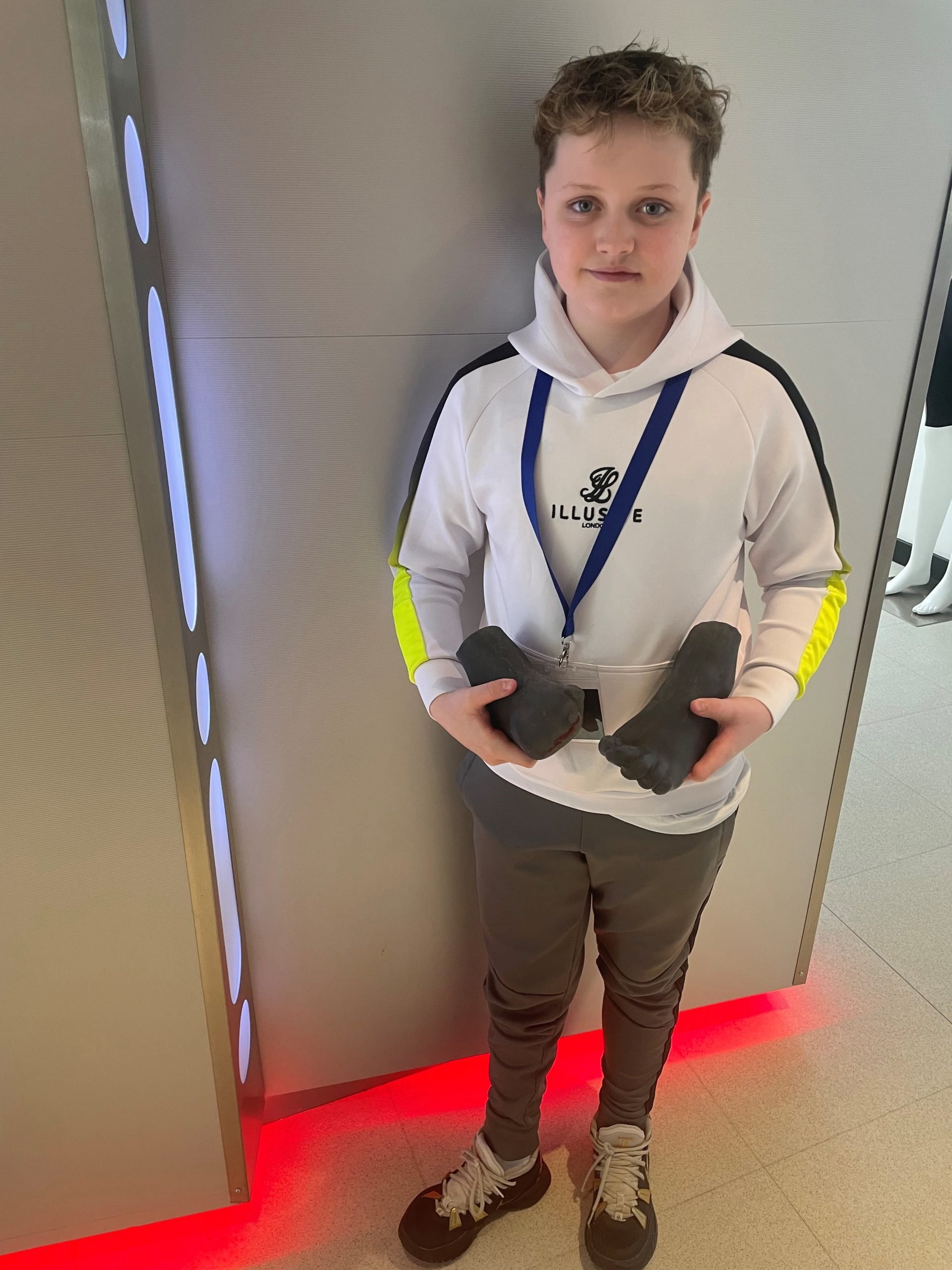 At just 13-years-old, Owen is the current British para swimming champion for his age and category.
Born with a right foot that has no toes and is shorter than his left, Owen has less flexibility and feeling in his right ankle which can also affect the balance of his swim stroke. These features, in turn, have left him unable to fit off-the-shelf kick fins to his feet.
Up to now, makeshift fixes such as adjustable heel straps have helped, but the time taken to fit them has eaten significantly into Owen's training sessions and affected his momentum.
Even at his young age, Owen's determination and relentless pursuit of improvement shines through. When it came to his kick fins, compromise was no longer good enough. So he turned to Speedo to find a permanent solution.
Our work with Owen began, as it has with so many other athletes, with a trip to our Aqualab research and development facility at our Nottingham headquarters. During his visit, Owen and his mum discussed the issues he faces during his swim sessions, and explained the need for more effective means to overcome them.
The team quickly got to work, firstly identifying an existing pair of Speedo kick fins that could be adapted, and developing initial sketches of their ideas.
Scans of Owen's feet were used to create a 3D model that ideas could be tested on, as our industrial design team set to work on creating a concept that involved partially blocking the foot pocket, and inserting a neoprene sock that Owen's foot could easily slip into.
With this initial idea in place, our dedicated tech centre continued to refine it, producing working prototypes of socks and padded inserts. While these were moulded to the scans of Owen's shorter right foot, 3D images of his left foot were also utilised, ensuring that the fins mirrored one another as a perfect pair.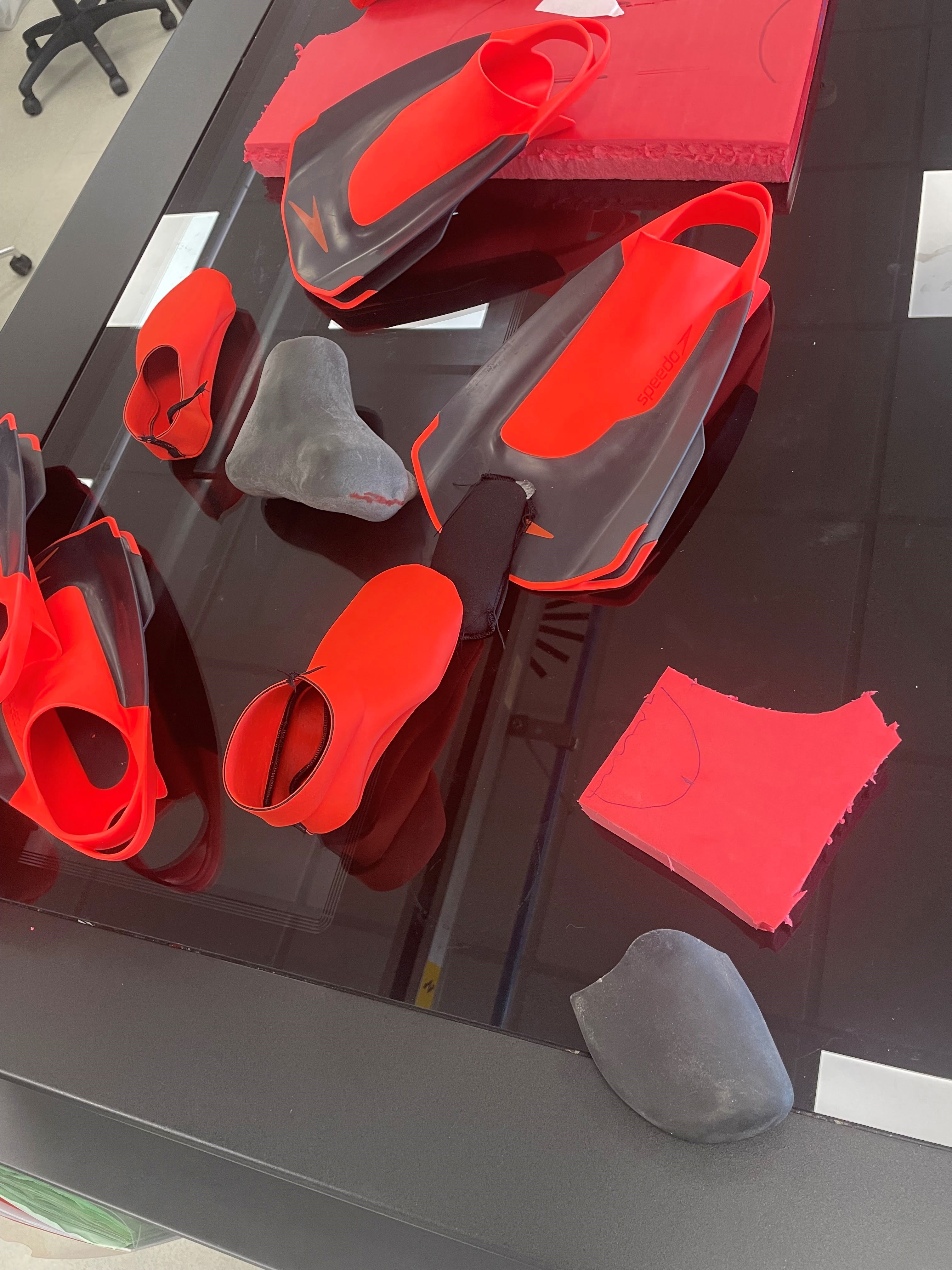 With production of the concept complete, it was time for Owen to return to Speedo HQ for the all-important testing.
The first impressions were overwhelmingly positive. The new 3D moulded inserts enabled Owen to pull on his kick fins quickly and easily, an immediate and clear improvement on the makeshift straps that had previously taken a considerable amount of time to fit.
But how did they perform in the water itself?
The results were better than expected. Much better.
Precision moulded to exactly fit Owen's feet, our adapted fins remained securely in place during swimming, delivering the performance improvements that he's craved for so long.
Job done? Not quite.
While Owen is reaping the benefits of the new solution, we've already made plans to catch up with him in a few months to discuss his customised fins, and to identify room for improvement. Based on his feedback, the Aqualab team will set to work on a new prototype, with plans to further enhance the comfort and durability of the model.
While this project has undoubtedly been beneficial to Owen, it's been a positive, inspiring and thought-provoking experience for us, too.
This is a project that's enhanced our understanding of the barriers faced by para swimmers across the world. As a brand that prides itself on delivering the best products to meet the needs of ALL swimmers, this will undoubtedly inspire further innovation as we strive to help athletes to accomplish their goals, no matter what stands in their way.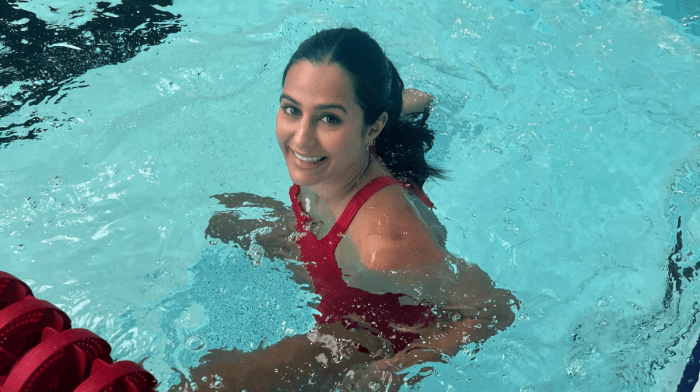 Discover the story of Sair Khan and how she made her way step by step to achieve her goals in swimming.